V&C Infinity Enterprise Sdn Bhd
28, Jalan Serindit 2, Bandar Puchong Jaya, 47100 Puchong, Selangor, Malaysia.

+6017-2982167
+60172982167
Puxing PX-888K Dual Band UHF VHF Walkie Talkie
Walkie Talkie --- Puxing ---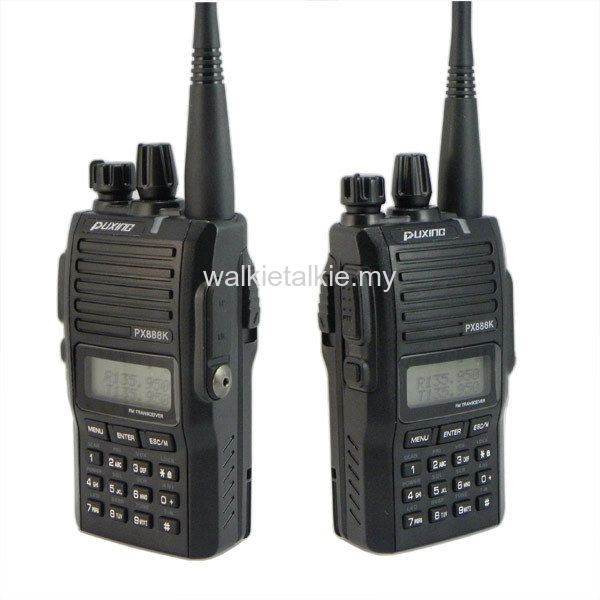 Description:
The PX-888K Radio Transceiver can be used for both amateur and commercial applications. The programmable channel shift allows for easy communication with repeaters.The microphone socket can be modified to carry the unfiltered demodulated signal. The receiver IC is a TA31136, with the unfiltered audio on pin 9.
| | |
| --- | --- |
| 128 groups channels storage | Shortcut menu operation mode |
| VFO & Memory channels scan | Emergency Alarm |
| Tri-color background light selectable | 0~9 grades VOX selectable |
| PTT & ANI ID | FM radio |
| Voice companding | 50 CTCSS/104 DCS |
| Two lines alphanumeric dot matrix LCD | PC programmable |
| Wide/Narrow Band(25kHz/12.5kHz) | Transmitter time-out timer(TOT) |
| PC software disable frequency input | Programmable by PC |
| High/Low TX power selectable | Busy channel lock-out(BCLO) |

Functions:
Frequency Range: 136-174 MHz / 400-480MHz
128 Channels 50 CTCSS and 104 DCS
Built-in VOX Function
1200mAh Li-ion battery
Output power: 5W
Channel step 5, 10, 6.25, 12.5 and 25K
Double channels watch
Single DTMF/2 tone/MSK ANI encodes and decode programmable
Side key programmable
Scan function with all channels scan and priority channel scan
Emergency ANI call
Bell ring when receiving signal
Adjust power Hi/Low by keypad or PC software
Adjust squelch 9
Busy channel lockout
Keypad lock
Time-out Timer
Reverse frequency function
Scrambler
Voice annunciation
Various frequency band available
PTT ID display
Kill and unkill by DTMF code
Europe tone available


Specification

General

Frequency Range

136-174MHz and 400-480MHz (TX/RX)

Operating Voltage

-20íŠ~+50íŠ

Operate Mode

Simplex or Semi-duplex

Dimension

100mm x 55mm x 32mm(Not included antenna)

Weight

220g(Including battery)

Antenna Impedance

50 Ω

Transmitter

Frequency Stability

±2.5PPM

Output Power

5W

Max Frequency Deviation

≤5KHz/2.5KHz

Audio Distortion

≤5%

Modulation Character

+3dB~-3dB

Adjacent Channel Power

≥70dB/60dB

Spurious Radiation

≤7.5uW

Occupied Bandwidth

≤16KHz

Receiver

RF Sensitivity

>0.2uV

Audio Distortion

≤5%

Audio Response

+2dB~-10dB

Co-Channel Rejection

≥-8dB

Adjacent Channel Selectivity

≥60dB

Intermodulation Rejection

≥65dB

Spurious Response

≥70dB

Blocking

≥80dB

Package:
1 x PX-888K (VHF136-174MHz / UHF 400-480MHz)
1 x 7.2V 1200mAh Li-ion Battery Pack
1 x Antenna 136-174/400-480Mhz
1 x Belt Clip
1 x English Manual
1 x Adapter
1 x Desktop Charger (100V ~ 240V )