V&C Infinity Enterprise Sdn Bhd
28, Jalan Serindit 2, Bandar Puchong Jaya, 47100 Puchong, Selangor, Malaysia.

+6017-2982167
+60172982167
TYT TH-UVF1 Dual Band UHF VHF Walkie Talkie
Walkie Talkie --- TYT ---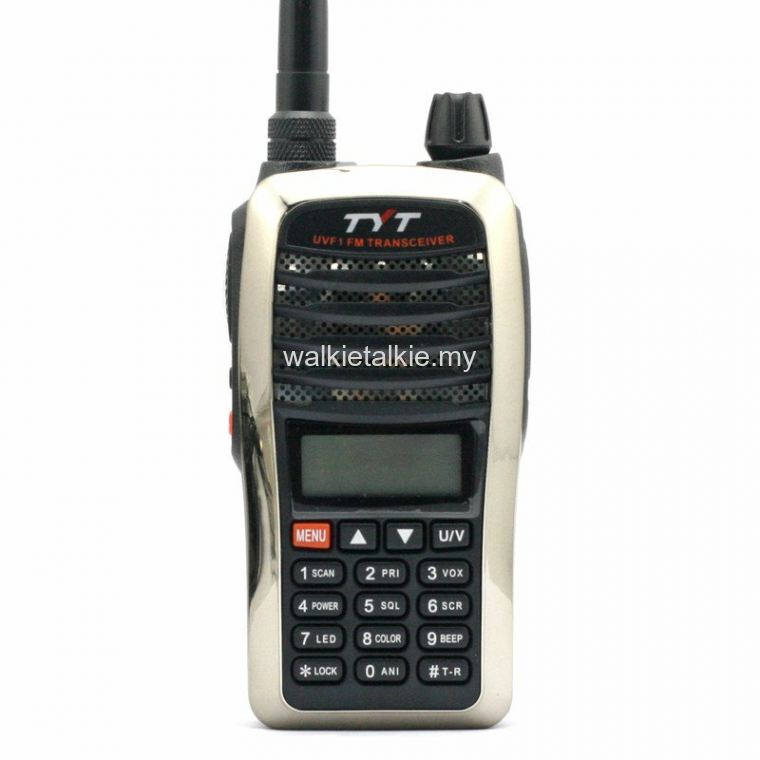 Description:
The TYT TH-UVF1 is an affordable 2 meter/440 handheld amateur transceiver with extended receive including the FM broadcast band. Power output is selectable at 0.5 or 4 watts on 136-174, 400-480 MHz. This radio is supplied with 7.4V 1800 mAh Li-ion battery, drop-in charging base, AC adapter, antenna, belt clip and Handstrap.

Functions:

Output Power: 5W/1W (VHF) 4W/1W(UHF)
Frequency range (MHz): 136-174/400-480
Channels: 199
Digital FM radio receiver
Voice commanding function
ANI code
Tri-color backlight (blue, purple, orange)
Voice prompt
VOX Grade selective
Emergency Call
Full-CH/FR mode/Self-program/Online program/manual adjustor
Manual / Electrical transfer (signaling frequency offset, power, sensitivity)
Menu operation
SIGNAL
50 groups CTCSS code/decode; 104 groups CDCSS code/decode
Hi/Low power selective
TOT (Time-out-timer)
Multi-Scan Function
0~9 grade Squelch selective
VOX sensitivity Adjustable code/decode
End-tone Elimination
Keypad lock
Direction of differ frequency, Frequency difference set
Channel step 5K/6.25K/10K/12.5K/25K

Specification:
Item number

TH-UVF1

General

Frequency Range

70-108MHz(FM Receive only)

136-174MHz (RX/TX)

400-480MHz (RX/TX)

Channel No.

128

Frequency Stability

5ppm

Antenna

High gain antenna

Antenna Impedance

50Ω

Operating Voltage

DC 7.2V (Rechargeable Li-ion battery)

Mode of operation

Simple or semi-duplex

Battery

LB-7.5L, 7.4V, 1800mAh Li-ion battery pack

Dimension

132 x 62 x 35 mm

Weight

258g (including battery, antenna)

Power Adapter

Input: AC110V-260V, 50/60Hz

Output: DC12V, 0.75A;

Transmitter

Output power

4W(H) 0.5W(L)

Modulation Mode

16kΦF3E / 11kΦF3E

Maximum deviation

£¼5kHz(Wide) / £¼2.5kHz(Narrow)

Spurious Radiation

£¼7μW

Adjacent Ch. power

65dB(Wide) /60dB(Narrow)

Pre-emphasis characteristics

6dB

Current

1.6A(5W)

CTCSS/DCS deviation

0.5±0.1kHz(Wide) / 0.3±0.1kHz(Narrow)

Intermediation sensitivity

8-12mv

Intermediation distortion

£¼10%

Receiver

RF Sensitivity

-122dbm(12db SINAD)

Audio power

≥0.5W

Audio Distortion

10%

Intermediation

60dB(Wide) / 55dB(Narrow)

Selectivity

65dB(Wide) 60dB(Narrow)

Spurious Rejection

65dB

Blocking

85dBuv/m
Package:

1x TYT TH-UVF1 Radio Body
1x 7.4V, 1800mAh LB-75L Li-ion battery pack
1x Desktop Charger
1x Input Car Charger
1x Antenna
1x AC Power Adapter
1x Belt Clip
1x Handstrap
1x User Manual