V&C Infinity Enterprise Sdn Bhd
28, Jalan Serindit 2, Bandar Puchong Jaya, 47100 Puchong, Selangor, Malaysia.

+6017-2982167
+60172982167
Wouxun KG-UVD1P Dual Band UHF VHF Walkie Talkie
Walkie Talkie --- Wouxun ---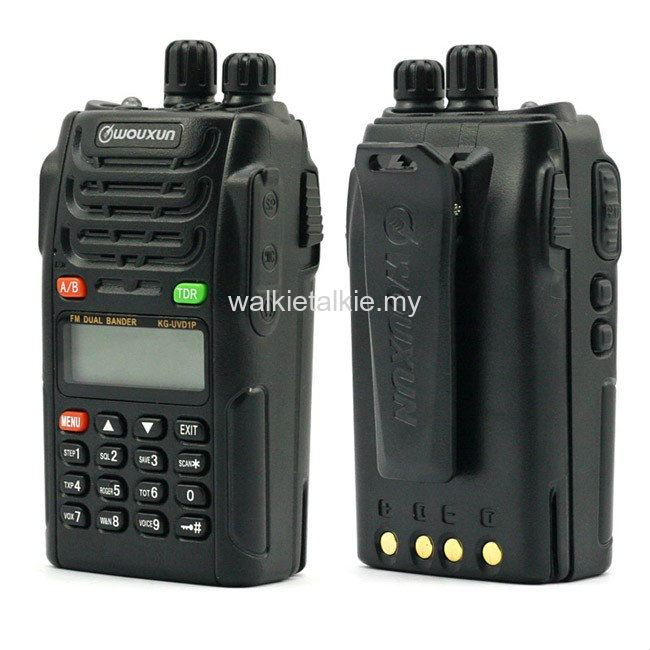 Quick Overview
Dual Band, Dual Watch, Dual Receive
5 Watt TX; 1700 Mah Li-Ion Battery
Drop-in Desktop Charger for easy recharging
Built in Flashlight
Built in FM Radio 87-108 MHz
Description:
The KG-UVD1P Dual-Dand handheld commercial transceiver provides up to 5 Watts of RF power on VHF and 4 Watts on UHF. This Dual-Band radio has a frequency range of 136-174/420-519.995MHz (RX/TX) FM: 76-108 MHz (RX). This is not a lighter duty amateur version. This is the real deal. The KG-UVD-1P features a long operating time with the included 1700 mAh high capacity Li-ion battery pack.

Specifications:
Frequency Range

136-174 & 420-519.995 MHz (RX/TX)

FM: 76-108 MHz (RX)

Memory Channels

128 channels

Frequency Stability

±2.5ppm

Operating Voltage

7.4V

Operating Temperature

-30°C to +60°C

Antenna Impedance

50Ω

Dimension

58×105×38(mm)

Weight

250g

Transmitter Frequency Stability

±2.5PPM

RF Carrier Power

UHF: 4W VHF: 5W

Effective Radiation Power (ERP)

within pre-determined value ±7.5dB

Max. Frequency Deviation

Channel Space: 25KHz ±5KHz

Channel Space: 12.5KHz ±2.5KHz

Audio Modulation

+3dB (pre-emphasis by 6dB between 0.3-3KHz)

Adjacent Channel Power

Channel Space: 25KHz ≥70 dB

Channel Space: 12.5KHz ≥60 dB

Spurious Radiation

≤-30dBm

Inter modulation Attenuation

≥40dB

Modulation Distortion

≤10%

Residual FM

≤-35dB

Residual AM

≤3%

Receiver Sensitivity (12dB SINAD£©

0.16µV

Squelch Rejection Sensitivity

≤0.8µV

Squelch Sensitivity

≤0.2µV

Audio Output power

500mW

Audio Distortion

≤5%

Audio Response

(300-3000Hz) +1 to -3dB

Co-channel Rejection

≥-8.0dB

Performance of Amplitude Limiter

≤3

Adjacent Channel Selection

Channel Space: 25KHz ≥70 dB

Channel Space: 12.5KHz ≥60 dB

Inter-modulation

≥65 dB

Resistance

≥84 dB

Spurious Radiation

9KHz-1GHz≤-57dBm

1GHz-4GHz≤-47dB

Package:
1x KG-UVD-1P Dual-Band 136-174 MHz / 420-519.995 MHz
1x 7.4V 1700 mAh Li-ion Battery Pack
1x Antenna
1x Desktop Charger ( 100V ~ 240V )
1x Belt Clip
1x Original Wouxun Car Charger Cable
1x English Manual