V&C Infinity Enterprise Sdn Bhd
28, Jalan Serindit 2, Bandar Puchong Jaya, 47100 Puchong, Selangor, Malaysia.

+6017-2982167
+60172982167
Baofeng GT-3 Dual Band UHF VHF Walkie Talkie
Walkie Talkie --- Baofeng ---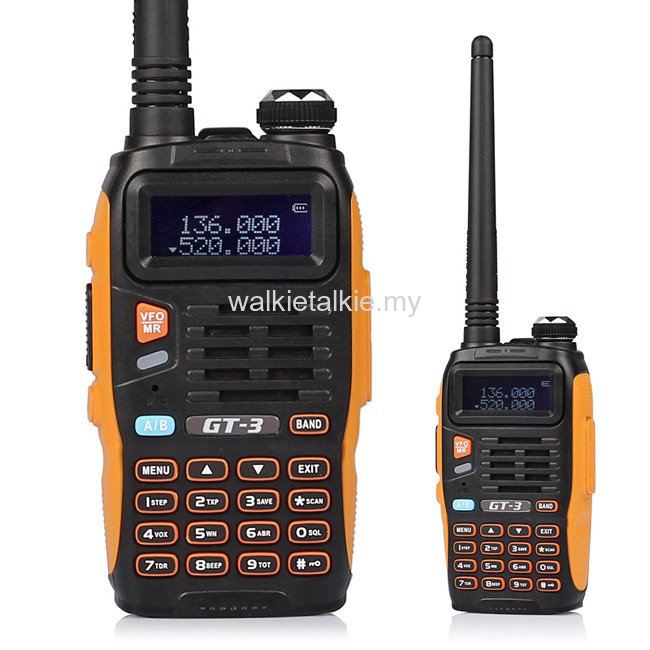 Description:
This is the 2014 latest Baofeng two way radio with fashionable and human-oriented features. Radioddity is proud to be Baofeng GT-3's selected distributor. Small and lightweight, it is small enough to fit in a pants pocket. Upgraded frame material and black&orange color matching make it more endurable and give it a more fashionable appearance. Multi-Language manual is available, including English, German and French. Moreover, it comes with a user-friendly user manual for bringing fabulous user experience. It's the best choice for gifts and self-consumption.

This is THE ONE

GT-3 is developed in collaboration with Baofeng(The most famous radio producer) and SainSonic(well-known e-commerce brand specializing in sales of electronic products in worldwide). We are the exclusively legitimate website for selling the brand new model 2014 Baofeng GT-3 Two-way Radio.
Functions:




1. Dual-band handheld transcevier with display function menu on the display "LCD".

2. DTMF encoded.

3. Incorporates 105 codes "DCS" and 50 privacy codes "CTCSS" programmable.

4. Timer transmission "TOT" programmable.

5. Selecting the Scan Mode.

6. Built-in RX CTCSS/DCS scan, LED flash.

7. Programmable by PC.

8. Dual Watch/dual reception.

9. Level Threshold "Squelch" adjustable from 0 to 9.

10.Crossband reception.
Specification:

| | |
| --- | --- |
| Model | Baofeng GT-3 Two-way Radio |
| Working Frequency | 136-174/400-520MHz |
| Output Power | 5W. 3-6KM effective talking range |
| Dual-Band Display | Dual Frequency. Display, Dual-Standby |
| Channels | 128 groups' channels storage, more convenient for different operating environments. |
| CTCSS & DSC | 50 CTCSS and 104 DCS, support VFO & Memory channels scan |
| Material | Upgrade the frame material. More portable, more durable and more fashionable |
Package:


Baofeng GT-3 Two-Way Radio

2014 brand new model, powerful two-way radio


7.4V 1800mAh Li-ion Battery
Longer battery life, stand by over 3 days

Antenna 136-174/400-519.995Mhz
Receive/ transmit signal stability, higher quality connection

Earphone Mic/Headset
Important accessory, hands-free for using radio anytime

Belt Clip
PC+ABS, safe and anti-slipping, convenient for Carry

Hand Strap
Double guarantee for preventing the radio drop down

GT-3 User Manual
Color printing, convenient for reading the manual

Adapter(EU, UK, US, AU)
Will pack the appropriate plug according to shipping address

Desktop Charger ( 100V ~ 240V )
Original Baofeng manufacturer, good quality
Details define quality



Radio Frequency IC





Upgrade SQ to enhance the anti-interference ability
RDA1846S add an new tail tone elimination function,when transmit and receive signal between 50Hz with 55H
Improve the receiver AGV switching noise when signal strength changes severe

Frequency-Modulated Receiver Chip

The RDA5802N has a powerful low-IF digital audio processor, this make it have optimum sound quality with varying reception conditions

Power Amplifier IC

Low crossover distortion
Low quiescent circuit current

LED Flashlight

High lumens degrees

Shell

Upgrade Dustproof£¬ waterproof and drop resistance ability

Meet your need in various operating environments